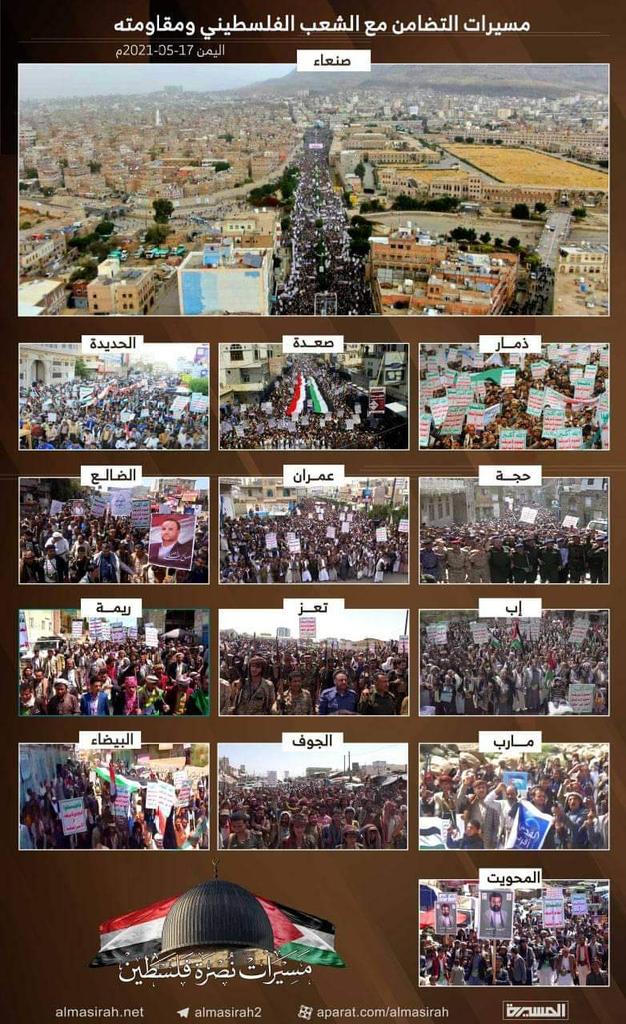 Millions of Yemenis in the capital Sana'a and a number of provinces have on Monday staged mass rallies in support of Palestinian people and to condemn the Israeli aggression on the Gaza Strip.
In the capital Sana'a, Thousands of demonstrators gathered in a mass rally in Bab Al-Yaman Square in solidarity with the Palestinian people.
Participants in the rally raised the Palestinian flag alongside the Yemeni flag, and slogans in solidarity with the Palestinian cause and rejecting the Israeli occupation and its attacks against Palestine's land, people and sanctities. They burned the Israeli and American flags.
They sent the resistance factions in Gaza all the salutations and reverence for the courage of their historical position in support of Al-Quds and Al-Aqsa.
Participants chanted slogans and raised banners denouncing the Zionist occupation forces' barbaric attacks and heinous crimes against the Palestinian people.
A statement issued at the rally, affirming that the "Al-Quds sword" battle is the battle of the entire nation, and all Muslims are called to fight the battle by all possible means.
The statement confirmed that "the time for the enemy's control of Al-Quds and Al-Aqsa has passed, and the price of continuing its attacks will be great."
It added that the brutal crimes against the people of Gaza, the West Bank and the occupied territories will rebound against the enemy's entity with destructive missile rage.
The statement called on the peoples of the region to stand strongly by Al-Aqsa and Gaza, and to make the battle of the Al-Quds Sword the inauguration of the liberating all of Palestine.
The statement further confirmed that Palestine will remain the central and first issue of the Yemeni people and the nation, calling on the Arab and Islamic peoples to boycott American and Zionist goods in response to the crimes of the Zionist entity against Palestinians and the Islamic peoples.