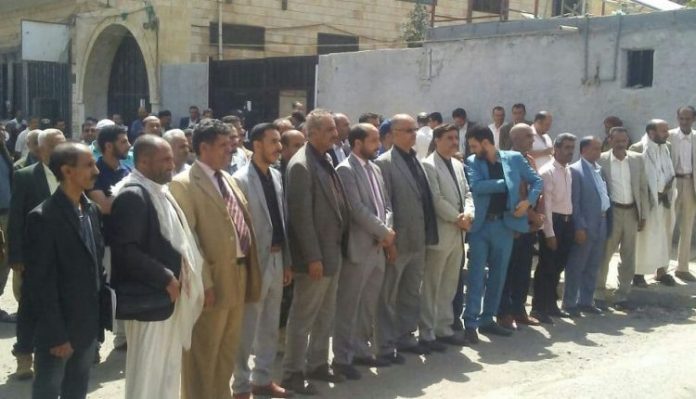 The Yemeni Petroleum Company (YPC) staff and the employees of the Local Water and Sanitation Corporation in the capital Sanaa, organized on Monday a vigil in front of the United Nations office to condemn the continued detention of fuel ships by Saudi-led aggression coalition.
The participants denounced the shameful silence of the United Nations on such barbaric acts, considering that a complicity with the aggression countries.
The employees of the Water and Sanitation Corporation warned, in a statement, of the catastrophic consequences of the lack of oil derivatives.
The statement indicated that the lack of oil derivatives will led to the cessation of pumping water from more than 70 wells and will cause an environmental catastrophe due to the stop of sewage treatment, which in turn would led to the spread of diseases and epidemics.
The lack of oil derivatives will lead to the suspension of equipment and mechanisms for maintaining the water and sewage networks, as well as stopping the provision of water and sanitation services to hospitals, the statement added.
The statement held the United Nations fully responsible for the consequent damages and disasters, calling on the international community to take responsible and more serious stances regarding the blockade and preventing the entry of oil derivatives.
During the vigil, the official spokesman for YPC, Essam Al-Mutawakel, said that "the United Nations, instead of making solutions, stopped aid of oil derivatives to some sectors, including the health and water sectors, which increased pressure on the company that faces a suffocating crisis since the beginning of the year."
Al-Mutawakel held the coalition forces, led by America, as well as the United Nations Organization, responsible for the human suffering of the Yemeni people, in light of the continued detention of fuel ships.