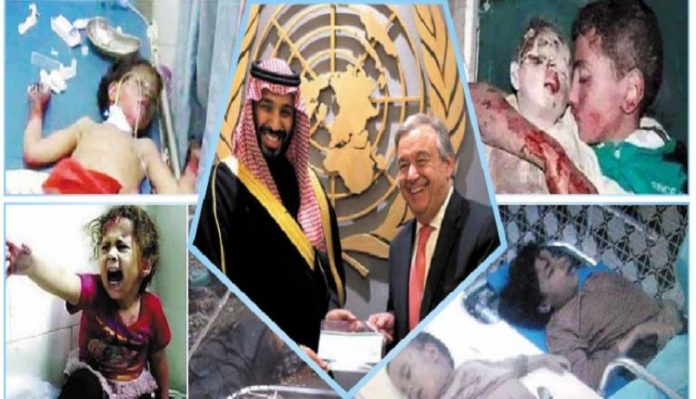 Entesaf Organization for Women and Children's Rights condemned the decision of United Nations Secretary-General Antonio Guterres to classify Ansarullah among the list of violators of children's rights.
Entesaf organization said in a statement, Saturday, that: "The decision is not based on the availability of information and facts, but is based on the bias of the countries of the coalition of aggression, violating all international and humanitarian laws by the United Nations."
The organization added that "the US-Saudi aggression coalition committed, for more than six years, the horrific massacres against children and women of Yemen.
According to the organization's statistics and reports, since the beginning of the aggression on March 26, 2015 until the end of May 2021, so 13,173 children and women were killed and wounded, including 7,956 children and 5,217 women.
It pointed out that the United Nations had previously intentionally removed Saudi Arabia from the blacklist of violators of children's rights in Yemen, despite the presence of human rights and international reports proving the horrific crimes of the coalition of aggression against Yemeni children.
Entesaf organization called on the international community, Human rights organizations, all honest and free people in the world and all media outlets to assume their moral and humanitarian responsibilities in supporting the children of Yemen, whose rights have been violated for years.
It also called to condemn and reveal the horrific crimes committed by the Saudi-led coalition against Yemeni children since the beginning of the aggression so that the world can see these crimes and the humanitarian catastrophe, which is ignored by the United Nations.