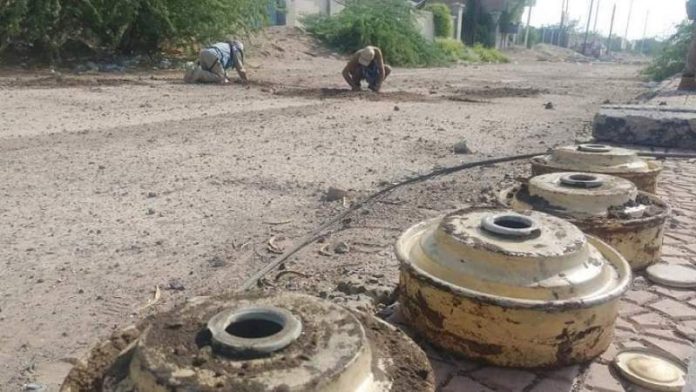 The Executive Center for Mine Action announced the removal of 689 mines, explosive devices and ammunition remnants of the US-Saudi-UAE aggression in several governorates within a week.
The center explained that during the period from June 18 to 23, the center's teams worked to clear an area of ​​33,386 square meters of war remnants, and a total of 689 mines and remnants of the aggression were discovered and collected, including 23 anti-tank mines, 37 explosive devices, and a total of 647 shells and various ammunition.
The center's teams have also placed hundreds of warning signs about the dangers of mines and cluster bombs in the streets, roads and entrances to the civil facility in Al Hawk District of Hodeidah Governorate.
The mine center works in difficult conditions and lack of equipment, as the US-Saudi aggression has prevented the entry of mine detectors since 2018, while field teams face multiple dangers and obstacles because of this.
The victims of cluster bombs have reached more than 25,000 civilians since the beginning of the US-Saudi aggression on Yemen. The Director of the Executive Center for Mine Action, Brigadier General Ali Safra, has pointed out that the support and resources allocated to field clearance do not reach the level of 2% of what is required to be cleaned.
The director of the Executive Center for Mine Action Brigadier Ali Safra stated that Hodeidah, Bayda, Ma'rib, Jawf, Nihem and Saada are the most infested areas for mines and bombs, in which the aggression used the most deadly and latest military technology in the country.
He explained that the Center is continuing to work to clear areas contaminated and affected by the bombs and mines of the US-Saudi aggression, pointing out that mines and remnants – especially cluster bombs – have become a national issue and a societal problem that must be disposed.
The Executive Center for Mine Action announced the discovery of 544 mines and cluster bombs left over from the aggression during the first week of January 2022.
The Mine Center's field work is concentrated in dangerous areas and densely populated directorates. However, the UN's curtailment of its support programs and the coalition's prevention of the introduction of detectors raises the specter of death that threatens the lives of women and children.