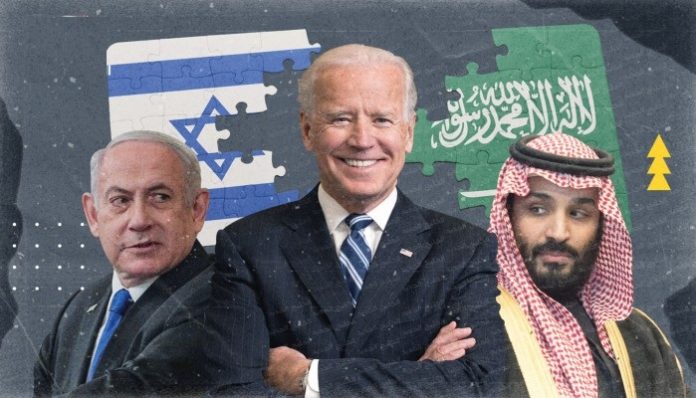 US President Joe Biden said the objective any visit of his to Saudi Arabia would be "to push forward contacts" between the Israeli occupation entity and the Kingdom, not just to convince Riyadh to increase oil production, the Israel Hayom newspaper reported .
Answering questions from journalists if he  has decided to visit Saudi Arabia, he replied, "No, not yet."
Asked why the decision was delayed, he denied that he was waiting for any commitment from the Saudis on the global energy crisis.
"No, no.  The commitments from the Saudis don't relate to anything having to do with energy.  It happens to be a larger meeting taking place in Saudi Arabia. That's the reason I'm going.  And it has to do with national security for them — for Israelis. I have a program — anyway. It has to do with much larger issues than having to do with the energy piece," Binden said.
Biden's plan thus apparently relates to a regional but as of yet undetailed plan toward public normalisation of relations between Tel Aviv and Riyadh, the paper said.
This would likely be done through an agreement to transfer sovereignty of the Tiran and Sanafir islands from Egypt to Saudi Arabia under the Cairo-Tel Aviv peace agreement, and to allow Israeli aircraft to fly over Saudi airspace, the Zionist media reported.
Biden announced Saturday that he has not yet made a final decision on his possible visit to Saudi Arabia, while the Wall Street Journal said the White House plans to announce the date of the visit on Monday.
Earlier, the US website Axios reported that the Biden administration is "quietly mediating" between Saudi Arabia, Israel and Egypt on negotiations that, if successful, could be a first step on the road to normalising relations between the kingdom and the Zionist entity.
It added that the issue concerns the completion of the transfer of dependency on the strategic islands of Tiran and Sanafir in the Red Sea from Egyptian to Saudi sovereignty, with Israeli approval.