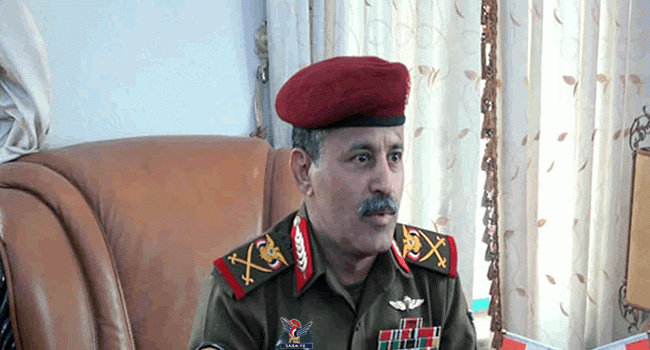 Yemen's Defense Minister Major General Mohammed al-Atifi affirmed that the country's national and maritime sovereignty is a red line and no one will be allowed to infringe upon it, stressing that the ongoing pillaging of Yemen's wealth will not go unpunished.
"We are fully aware of the plans of the occupation forces and their race to control oil and gas sites in the eastern governorates of the country," Major General Al-Atifi said, during his inauguration of the College of Medicine and Health Sciences, Wednesday.
He added: "Our Armed Forces today are able to protect the wealth of the Yemeni people and are ready to respond at the appropriate time determined by the leader of the revolution."
Al-Atifi pointed out that the Yemenis are making today, with their hard work, efforts, patience and commitment, the history of a new stage free of foreign tutelage consequences.
The Minister of Defense considered the continued intransigence of the aggression against the Yemeni people, despite the truce, as revealing the nature of the hidden intentions.
He explained that the aggression's failure to adhere the truce reveals the extent of Western colonial ambitions for Yemen's wealth, economic capabilities and strategic geographical location.
The Minister of Defense stressed that the ongoing pillaging of Yemen's wealth will not go unpunished, and that the battle for liberation and independence is the key to defeat the invaders.
The Minister of Defense considered the US-Saudi Aggression's waiting for a moment of retreat of  Yemenis' will, is waiting for one of the impossibilities of life.
He stressed that the Yemenis will turn curse of geography concept into the blessing of geography.
Al-Atifi further stressed that the leadership of the Armed Forces is destined to build and establish a naval force that will take on national and regional responsibilities and international entitlements.