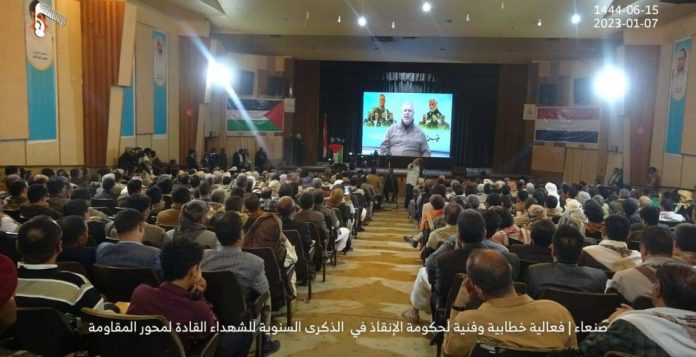 The National Salvation Government on Saturday commemorated the anniversary of the martyrdom of the leaders of the axis of resistance, in the capital Sana'a.
During the event, Prime Minister Abdulaziz bin Habtoor confirmed on Saturday that the Yemenis are in complete harmony with those who reject the Western and Zionist project.
"This event embodies the meaning of solidarity and cohesion in the axis of resistance," Bin Habtoor said, at the event commemorating the martyrs of the leaders of the axis of resistance.
"The martyrs Al-Sammad, Soleimani, and Al-Muhandis are symbols for us and role models for all the free people at the level of the resistance axis in Palestine, Lebanon, Syria, Iraq, and Yemen," he added.
On May 29, Bin Habtoor said that the government had taken a decision to prepare a draft law to criminalize normalization with the Israeli occupation. At the time, he stressed that this law is "a constitutional framework for the desire of the Yemeni People, and came in line with Yemen's positions on the central issue."
On the third martyrdom anniversary of Lt. Gen. Soleimani and his companions, commemoration ceremonies were held in different parts of the Middle east, including Lebanon, Syria, Iraq, Palestine, and Yemen.
General Soleimani and his companions were highly popular because of their key role in eliminating the US-backed Daesh terrorist group in the region, particularly in Iraq and Syria.
It was on January 3, 2020, when lt. Gen. Soleimani, the commander of the Quds Force of Iran's Islamic Revolutionary Guard Corps (IRGC), and Iraq's Popular Mobilization Units' (PMU) Second-in-Command Abu Mahdi al-Muhandis were assassinated along with their companions in a US drone strike near Baghdad International Airport, authorized by the former US President Donald Trump.
General Soleimani was assassinated by the US while he was in Baghdad at the official invitation of the Iraqi government.