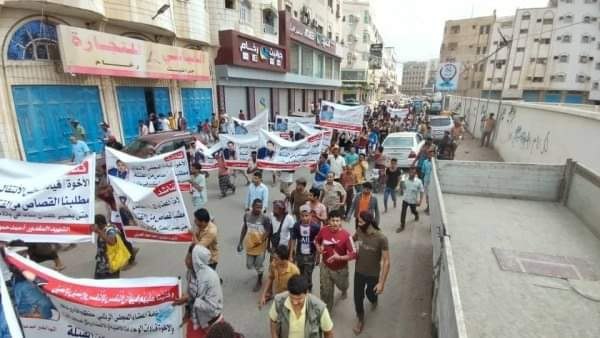 Merchants in Yemen's southern port city of Aden, which is under the control of the Saudi-led aggression, carried out a protest and a comprehensive strike on Friday, condemning the murder of the merchant Al-Odaini.
Protesters in the march, which roamed the streets of the city, chanted slogans demanding that the perpetrators be arrested and held accountable, and calling for an end to crime and chaos in the city.
In a statement issued by demonstrators, the merchants of Aden condemned in the strongest terms the "heinous crime", demanding that the perpetrators be arrested and receive their punishment in accordance with justice.
According to the statement, the merchant Al-Odaini had previously been subjected to injustice, assault and threats, as well as kidnapping and physical and psychological torture, because he demanded his money from one of the exchange companies, which declared bankruptcy and embezzled the money of depositors, including the slain trader, who was one of its major customers, with an amount of two million Saudi riyals.
The gunmen stormed the shop of merchant Ahmed Hammoud Qaid al-Odaini in Sheikh Othman district, and killed him.