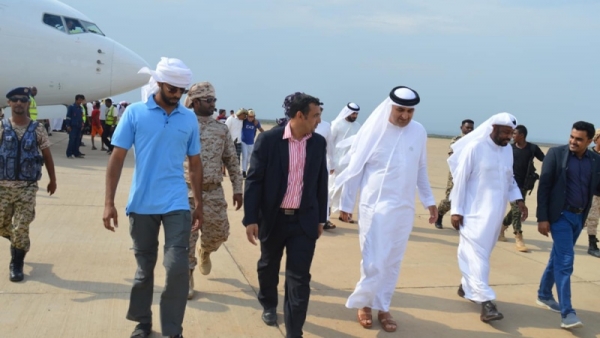 Informed sources revealed that a high-ranking Emirati delegation, headed by an advisor to Mohammed bin Zayed, arrived yesterday, Tuesday, in the city of Hadibu, the capital of the Yemeni Socotra archipelago.
The sources told Al-Mawqea Post that Mohammed Mubarak Al-Mazrouei, advisor to bin Zayed and former director of his office, arrived in Socotra with a high-ranking delegation on an unannounced visit.
The sources did not mention more details about the visit of the Emirati delegation at the current time, while the local authorities in the archipelago, represented by the governor appointed by the UAE, Raafat al-Thaqali, who is affiliated with the transitional government, did not announce a statement regarding the visit.
The arrival of the Emirati delegation comes days after the Saudi Duty Forces 808 evacuated its headquarters in the city of Hadibu, the capital of the Yemeni Socotra archipelago, in light of tension between Saudi Arabia and the UAE over issues of influence in southern and eastern Yemen.
The UAE, with the complicity of Saudi Arabia, took full control of the Socotra archipelago in June 2020, through the forces of the Southern Transitional Council loyal to it.
The UAE has been bulldozing Socotra's antiquities, trees and birds since 2017, in full view of the people, despite their appeals to no avail.
It is noteworthy that Socotra Island was ranked as the most beautiful island in the world for the year 2010 due to the unique biodiversity and environmental importance of this island.