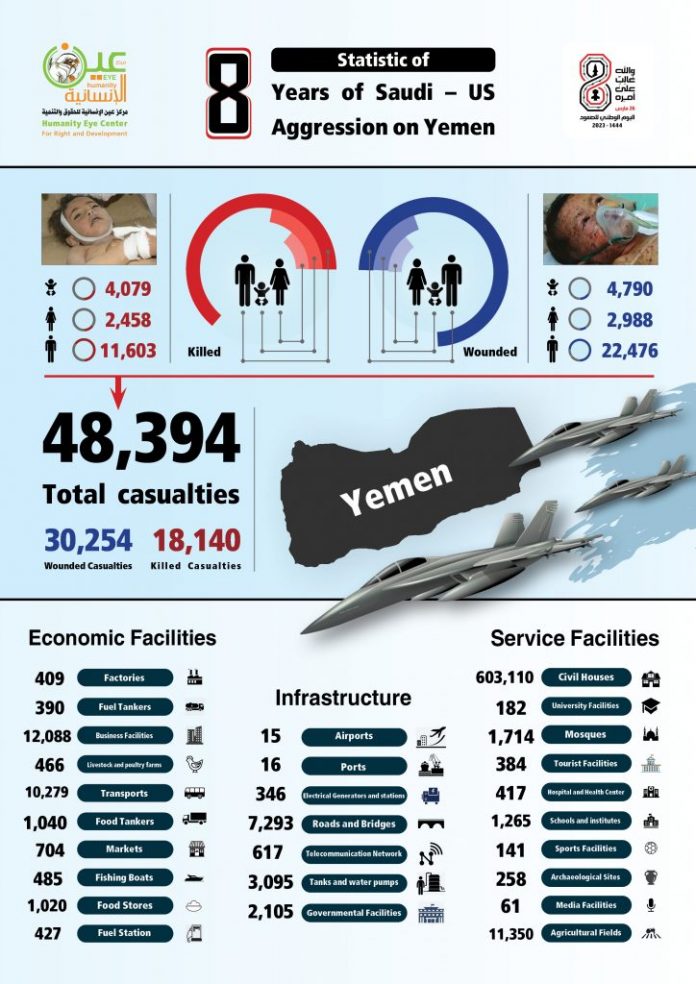 Eye of Humanity Center for Rights and Development on Saturday published shocking statistics on the crimes of the US-backed Saudi-led coalition aggression over the past eight years.
According to a report issued by the Center, a total 48,394 citizens were killed and injured, 18,140 of them were killed and 30,254 others were wounded.
It explained that 4,079 children were killed and 4,790 others were wounded, while 11,603 men were killed and 22,476 others were wounded, while the number of women that were killed is 2,458 and 2,988 others were wounded.
The report revealed that during eight years of aggression and siege, 15 airports, 16 ports, 346 power stations, generators, 617 networks and communication stations, 3,095 reservoirs and water stations, 2,105 government facilities, and 7,293 roads and bridges were targeted.
The center stated that 409 factories, 390 fuel tankers, 12,088 commercial establishments, 466 chicken and livestock farms, 10,279 means of transportation, including 485 fishing boats, and 1,020 food stores, 427 fuel stations, 704 markets, and 1,040 food trucks were targeted during the eight years of aggression.
The center monitored the targeting of 603,110 homes, 182 university facilities, 1,714 mosques, 384 tourist facilities, 417 hospitals and health facilities, 1,265 schools and educational facilities, 11,350 agricultural fields, 141 sports facilities, 258 archaeological sites, and 61 media facilities by the US-Saudi airstrikes.