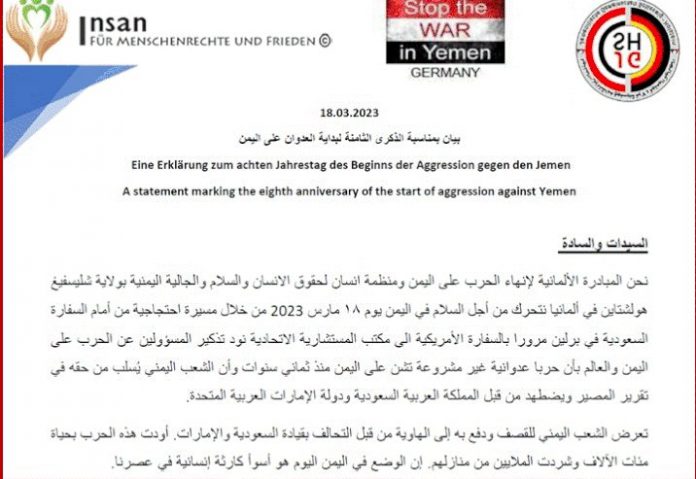 A German initiative to end the war on Yemen, in coordination with INSAN Organization for Human Rights and Peace, with the participation of the Yemeni community in the state of Schleswig-Holstein, announced an upcoming protest next Saturday, in front of the Saudi embassy in Berlin.
A statement issued by the initiative on the eighth anniversary of the war on Yemen confirmed that the protest would start in front of the Saudi embassy, passing through the US embassy to the Federal Chancellery.
According to the statement, The US, UK, France and Germany-backed Saudi-Emirati aggression is one of the major issues that have exacerbated the war in Yemen. Since 2015, Saudi Arabia has been waging an air war against Yemen with countless civilian casualties and the destruction of important infrastructure.
The destruction of institutions, facilities and infrastructure by the Saudi coalition in Yemen resulted in heavy damage and casualties. According to the United Nations, thousands of schools, homes, hospitals, universities, roads and other important facilities were destroyed.
Since the war began in 2015, more than half a million Saudi coalition airstrikes have destroyed at least 1,500 schools. This has severely impacted educational opportunities for children in Yemen and has led to an increase in child labour, the statement read.
The Saudi coalition also attacked homes and residential areas, resulting in many civilian deaths and injuries. It is estimated that up to 400,000 homes were damaged or destroyed and millions were left homeless.
The attacks by the Saudi coalition also hit important infrastructure such as hospitals and universities. According to the United Nations, at least 200 hospitals and health facilities were damaged or destroyed, severely affecting medical care for residents. Many universities and other educational institutions were also destroyed or damaged, causing a major setback for education and development in the country.
The statement demanded to refer the case of Yemeni civilian victims, including children, to the International Criminal Court to investigate war crimes and crimes against humanity committed in Yemen, prosecuting the perpetrators to face justice and not to evade their legal responsibility and punishment, and reparation for the victims.
It called for lifting the blockade of airports and ports in Yemen and providing necessary humanitarian assistance to Yemen, including food, Medicines, clean water and fuel to save the lives of millions of children who are victims of the blockade and arbitrary restrictions.
The statement stressed on the importance of ending the war and military operations, open airports and ports, pay employees' salaries and foreign armed forces from Yemen on one manner that preserves the security and stability of Yemen and guarantees the safety of maritime navigation in the region.
It further called on the international community not to deal with human rights violations in any country with international double standards and to end all human rights violations, the killing of children and women, the destruction of infrastructure and the blockade.