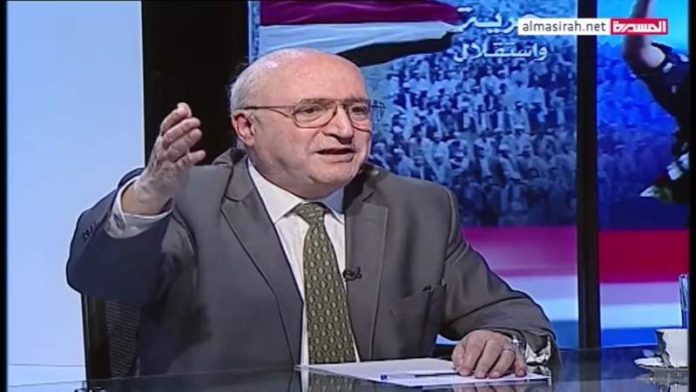 Nasser Qandil, editor-in-chief of Al-Binaa newspaper and a former Lebanese Parliament member, considered that the Yemeni Armed Force has now become a partner in all equations of the region.
He confirmed that the recent military parade in Sana'a is one of the manifestations of September 21 Revolution's achievements. In an interview on Almasirah channel, on the occasion of the 9th anniversary of the September 21 Revolution, Qandil said, "For the first time, we are seeing a real Yemeni army whose decisions come from Yemen," explaining that the Yemeni army manufactures missiles that enable Yemen to be present in the power equations between the majors.
He added, "The Yemeni Armed Forces have now become "a partner in energy security, a partner in the security of navigational equations, and a partner in the security of the stability of the Gulf, as one of the most powerful military forces in it, and a partner in Arab national security in the issue of Palestine," pointing out to what the Israelis say about Yemeni power."
He continued: "In all countries of the world, the backbone of state building is the armed forces. Whoever does not build armed forces does not have a project to build a state."
Qandil pointed out that the Yemenis benefited from the de-escalation phase in building their power, and produced more power and accumulated more of it, stressing that this is evidence of determination, will, mental and practical potential.
He also stressed that the military solution and siege failed, "because under the siege these capabilities were built and under the siege these victories were achieved."
He stated that the US-Saudi aggression coalition must engage with Yemen in understandings and acknowledge that it has overcome the crisis, defeated the aggression, and broken the siege, adding, "The security of others is now being bought from Yemen, because Yemen imposed deterrence equations."
Qandil concluded by saying: "I see that, all the time of aggression and siege was invested in building the backbone and foundation of the state, represented by the Armed Forces, and building armed forces that we saw in the military parade bodes well."