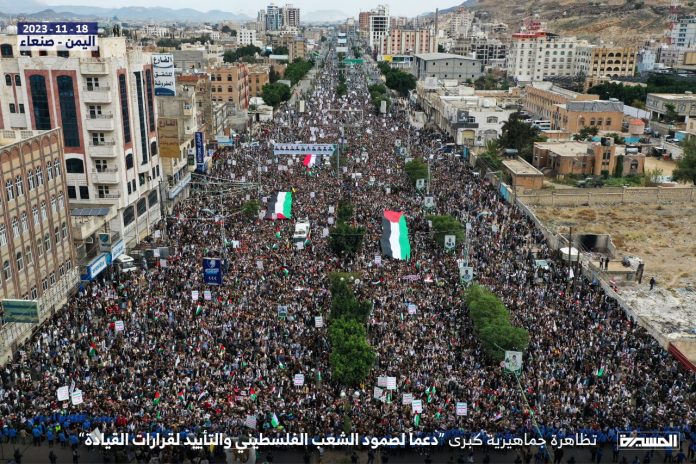 The capital Sana'a and many other Yemeni cities have witnessed on Saturday afternoon mass rallies in support of the Palestinian people and condemn crimes of the Zionist occupation entity in Gaza.
The participants raised the Palestinian flag and chanted slogans condemning the Zionist massacres against civilians in the Gaza Strip. They called for opening borders to go to Palestine to fight alongside the Palestinians against the Zionist enemy.
A statement issued by the popular rallies renewed condemnation of the series of killings by the US- Zionist enemies against the people of Gaza.
The statement expressed the disappointment over the Arab Islamic Summit's failure to take a supportive stance towards Gaza.
The rallies' statement stressed the continuation of supporting the struggling Palestine people until the liberation of all of their land, pointing to the continuation of general mobilization in preparation for any upcoming options in the battle.
The statement announced absolute support for all the courageous decisions taken by the leadership that express the Yemeni people's support for the Palestinian cause, reiterating its demand for continuing to carry out strikes against the Zionist enemy and using options announced by the leader of the revolution.
The rallies' statement also called on the Arab regimes to open corridors for the flow of mujahideen from all Islamic peoples, especially the Yemeni people, to support their brothers in Palestine.
The statement further called on all peoples to seriously interact with the boycott campaigns that must continue.