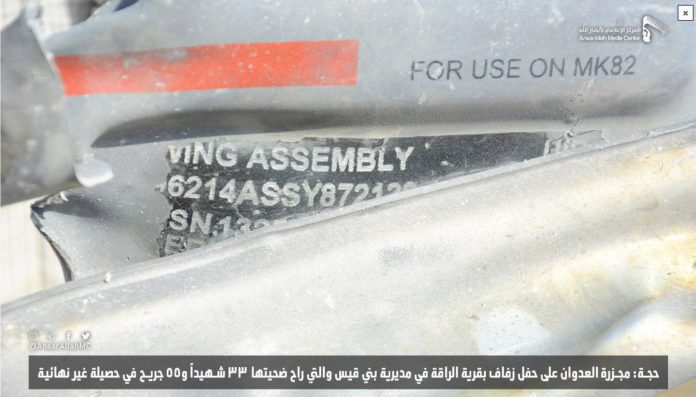 By Aric Toler
On April 22, the Saudi-led coalition carried out multiple airstrikes on a wedding in Yemen's Hajjah Governorate, with reports of at least 33 dead, including the bride. Reportedly, the majority of casualties were women and children. Survivors of the attack described how the jets continued to circle the bombing site after the attack, preventing first responders from reaching the victims.
Dozens of images and videos [note: links lead to extremely graphic content] have been published in local and social media showing the victims of the airstrike, both at the wedding and a hospital in Hajja.
Weapons identification
The following day, April 23, local media in Yemen published a photograph of weapon remnants taken by the Ansar Allah Media Center, which has extensively documented the airstrike through multiple social media platforms, including Telegram, Facebook, and Twitter.
This photograph, along with others from the scene, were reportedly passed to the Yemen Press Agency (Saba News Agency) from the media center.
The photograph shows the remains of the wing assembly of an American-made GBU-12 Paveway II guided bomb. The caption at the bottom of the image reads. The massacre of the enemies on the wedding party in village called Al raqa in Bani qais administration which resulted of 33 martyrs and 55 injured which an estimate that is not final.
We can trace back this exact wing assembly part to an online database (thanks to @obretix), with the serial number (1325…), SKU (96214 … 872128…) matching up with the wing assembly part used for the GBU-12 Paveway II guided bomb. This bomb part was manufactured by the American defense firm Raytheon.