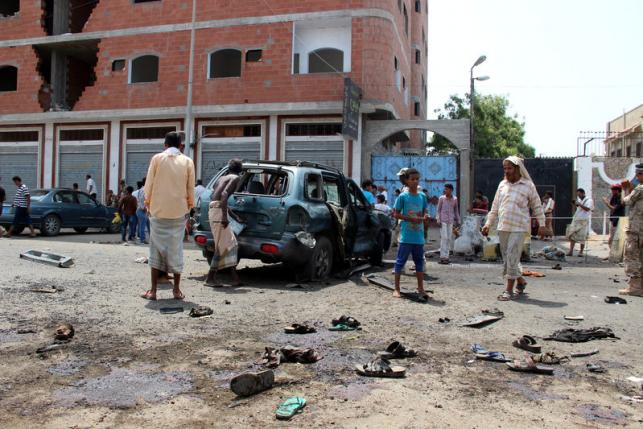 Al-Thawra Net
A pair of suicide bombers killed at least 17 recruits and wounded dozens in Yemen's southern city of Aden, today, security officials said.
The officials said that the explosions targeted young men seeking to join the army, " first explosion was in the registration location  at 39th armored brigade  killing 17 recruits and wounded dozens."
officials  added that the second explosion was few minutes after the first  in Badar camp , dozens killed and wounded.
Last Saturday , gunmen assassinated Col. Muthana Rashid, commander of Sheba   camp, while he was going out of Zmran market in Al- Mansoura district.
Recently, ISIS declared its responsibility  for similar bombings in the city of al- Mukalla that dozens were killed and wounded. Southern cities  suffering witnesse lake of security  in the light of wide spread of  Takfiri groups under the occupation authorities.
Yemen has been under bombardment by the Saudi aggression for more than a year. The Saudi-led coalition aims are to retrieve the presidency of the Saudi-backed ex-president of  Yemen "Abd Rabbuh Mansur Hadi" and to weaken the Yemeni movement of Ansarullah.
Thousands have been martyred and injured in the attack, with the vast majority of them are civilians. However, the Saudi aggression is not only confronting a military force of a particular party, it is confronting a whole nation.