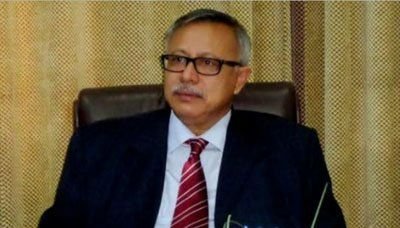 Al-Thawra Net
Prime Minister Abdelaziz Saleh bin Habtoor met the Syrian Charge d'affaires in Sana'a, al-Hakam Dendini.
During the meeting, they discussed bilateral cooperation between the two brotherly countries.
They also went through the current developments in the two countries in the light of the fierce attack Saudi-led coalition which carry out a criminal scheme against the Yemeni and Syrian peoples.
The Prime Minister praised the victories achieved by the Syrian Arab Army backed by a number of countries that played an influential role in changing the balance of power in Syria, especially during the past six months.
In his part, the Syrian chargé d'affaires emphasized the brotherly and fateful relations of the two brotherly peoples, affirming the Syrian position of rejecting aggression aimed at destroying all elements of the Yemeni people, depriving them of their wishes and their right of life and dignity.
He expressed confidence in the victory of the Yemeni and Syrian peoples in their one fateful battle.