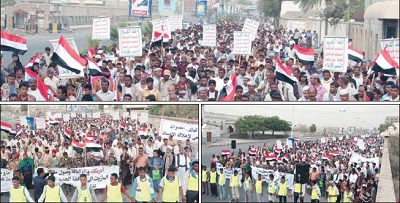 Al-Thawra Net
The Yemeni citizens of al-Hodeida province have held a mass rally on Friday evening denouncing the Saudi-American aggression preventing the diesel vessel (Falrio) to operate the electricity to reach the port of Hodeida.
Participants raised banners and chanted slogans expressing their condemnation and rejection of the aggression forces volitions against the Yemeni people and Hodeida province in particular by preventing the ship Mazut for the electricity of the province of access and deprive Hodeida of electricity.
They also stressed on the need to release the diesel vessel (Falrio) to run the electricity station of Hodeida province and allowing the vessel to reach the port.
The statement called on international organizations to put an end to the violations of the aggression coalition, which are against all norms, charters and international humanitarian law, and to work to stop this brutal aggression.