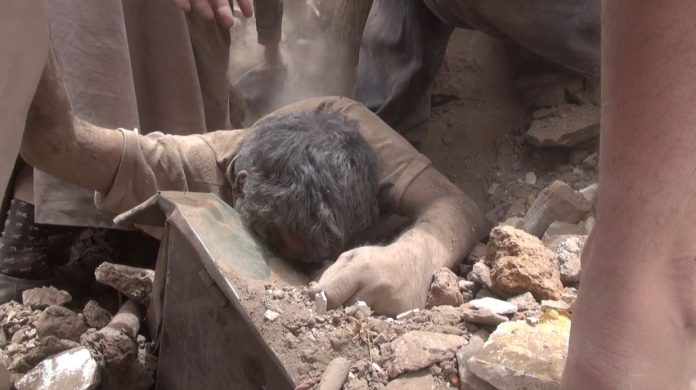 Al-Thawra Net
A military source confirmed that  the Saudi-American aggression continued targeting  citizens' houses and properties in a number of Yemeni  governorates during the past hours .
The source said in a statement to the Yemeni News Agency (SABA) that the aggression warplanes  launched a raid on Dhofar mount in Bani Matar  directorate , 13 raids on  Alhima directorate and a raid on Nehim directorate in Sana'a .
The source said that the  aggression launched three raids on Zaher directorate  ,two raids on Kataf directorate  province of Sa'ada province, and the aggression targeted  houses of citizens in Ayash district .
The source pointed out that the  aggression launched more than six raids on the area of Al-Barh in Taiz, and ten raids  in the Directorate of Dauran Anas in Dhamar  province .
The source pointed out that the aggression launched a raid on the house of a citizen in the Directorate of Asilan, Shabwa province ,six raids on Harad and Midi in the province of Hajjah and two raids on two areas in Jizan .
.