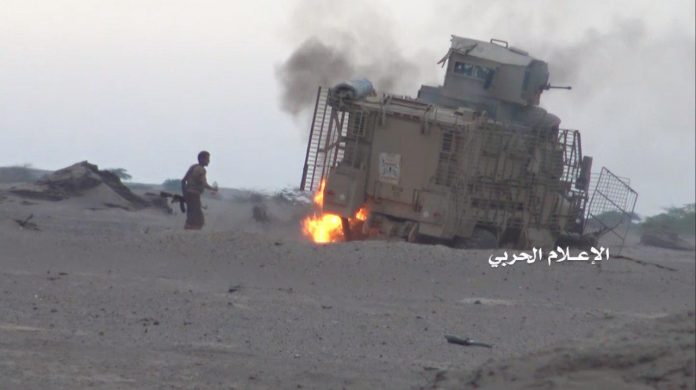 Al-Thawra Net
The Yemen army and popular committees targeted 146 gatherings of Saudi troops and destroyed 508 of their modern military vehicles in several fronts during this year, a military official told Saba News Agency on Sunday.
In Yemen's western coast, the engineering unit of the army and committees destroyed 212 military vehicles with their crews, including 160 newly equipped vehicles, 42 American Oshkosh (M-ATV) anti-Mines with their crews, four armored vehicles, two minesweepers and four military bulldozers, during the past weeks.
In the fronts of Nehm, Jawf and Sarawah, the engineering unit destroyed 128 modern military vehicles with their crews, and in border fronts, 103 different military vehicles were damaged, with their crews and equipment.
The military engineering unit also targeted 34 different military vehicles in the central region and destroyed 23 military vehicles with crews in the first sector of the eastern region.
The official confirmed that the military engineering unit carried out qualitative and tactical operations against 146 of enemy's gatherings on different fronts, including 68 gatherings in the central region, causing direct casualties in according to information and intelligence coordinates that eliminated large numbers of enemy forces.
The military operations of targeting the gatherings of enemy resulted in the death of a number of Saudi-paid mercenaries militiamen's leaders, including Ahmad al-Samawi, commander of the so-called 7th brigade, Wajh-Alkhair Hdban, commander of a brigade in the front of Jawf, and Hassn Dobla, commander of the so-called Tahamia resistance.
In the operations of the engineering unit, a number of the mercenaries' commanders were killed, including Nabil al-Suhaili and Mohammed al-Musabi, the commander of Jabal Shaer operations and one of his companions.
The official said that this statistic is part of other statistics will be completed and published to add to the record of the great victory of the Yemeni forces and popular committees against coalition force and invaders.
Source: Saba