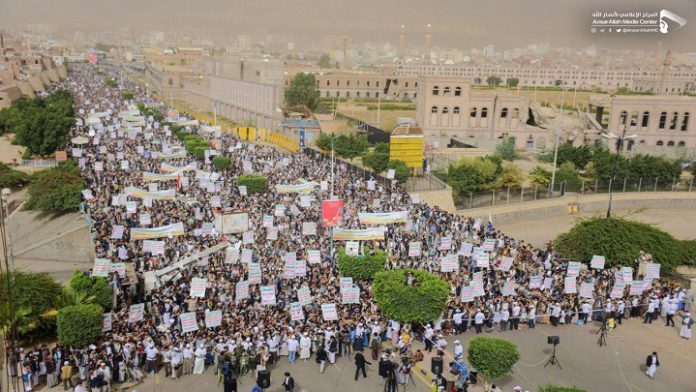 Al-Thawra Net
The capital Sanaa witnessed on Friday afternoon a mass rally to commemorate of Ansar Allah movement's slogan "Sarkha" anniversary in Bab-Yemen area.
The participants in the rally raised national flags and slogans condemning US interventions and providing support and military equipment from internationally banned bombs and aircraft that bombard and kill the Yemeni people and disrupt peace and peaceful solutions.
The participants stressed on the necessity of boycotting American and Israeli goods, promoting awareness of the plans and dimensions of the aggression and its ambitions in Yemen and rejecting American and Israeli interventions.
The participants also stressed on the importance of continuing steadfastness and funding of the fronts until the victory, confirming that this slogan reflects the position of faith and humanity towards the enemies of God and proved its impact in the hearts of enemies.
During the rally, the leader of the revolution, Sayyed Abdul Malik Badr al-Din al-Houthi, delivered a televised speech on the anniversary of Sarkha, said.
"We salute on this day the memory of Sarkha in the face of the arrogant which launched by martyr Hussein Badr al-Din al-Houthi as a slogan for a Qur'anic process and an effective practical plan to improve the Muslim community by facing its arrogant enemies, especially America. "