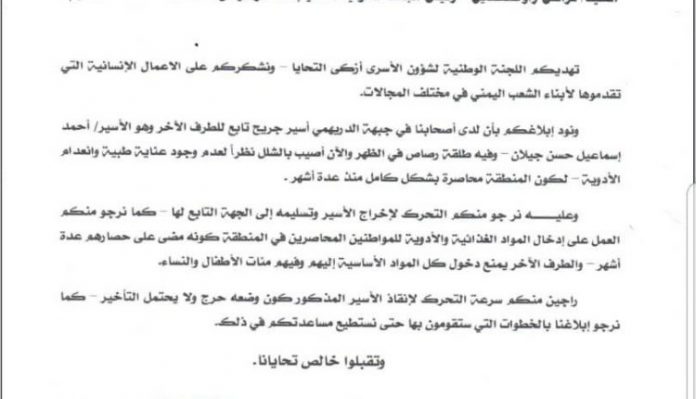 Al-Thawra Net
The National Committee for Prisoners' Affairs has held the Saudi-led coalition responsible for the death of an injured prisoner belonging to the coalition, due to the invaders preventing an International Red Cross mission in Yemen from entering the besieged city of Duraihimi to rescue him.
"On May 8, 2019, we submitted a memorandum to the International Committee of the Red Cross in Yemen informing them of the existence of an injured prisoner who is affiliated with the coalition, and he is in a custody of the army and the People's Committees inside the city of Duraihimi," the committee said in a statement issued on Sunday evening.
The committee added that it had informed the Red Cross that: "The prisoner, Ahmed Ismail Hassan Jilan has wounds in the spine, and his condition is very poor. He was paralyzed due to the lack of medication and the difficulty of providing the necessary health care as a result of the siege imposed on the city since several months."
The statement confirmed "we have asked the International Red Cross mission to move and enter the city in order to save the life of the prisoner and hand him over to its affiliated party."
"Since then the memorandum was sent, we have followed them continuously, but every time they tell us that the forces of aggression and their mercenaries have rejected it," the statement read.
The coalition forces "did not allow them to enter the city to save his life," the statement said.
"Today, unfortunately, the prisoner died as a result of the deteriorating situation of his health and the lack of necessary medication in the besieged city," the statement added.
While the committee held "the forces of aggression and their mercenaries responsible for his death and for not being able to save his life as a result of their intransigence and their refusal to take him out," the ICRC called on Yemen to clarify the circumstances of the case.