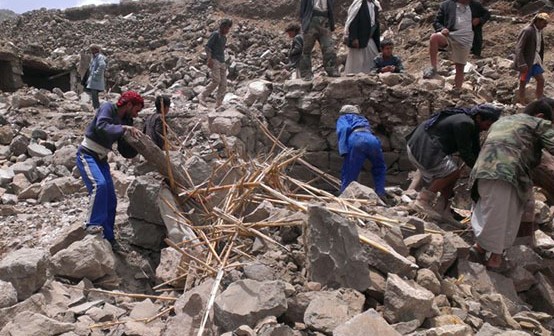 The aggression forces continued to target citizens and their property, which led to the injury of a child in new violations of the ceasefire agreement in Al-Hodeidah Governorate, while the aircraft launched a series of raids on a number of governorates during the past 24 hours.
A military source said to the Yemeni News Agency (SABA) that a child was injured and a number of cows were killed and houses were damaged as a result of the shelling of tanks and artillery forces of the aggression on the village of Al-Manqim in Al-Druhimi district.
The source pointed out that a house of one of the citizens in the village of al-Jarba al-Olaya in the al-Druhimi Directorate was damaged as a result of the intense artillery shelling of the aggression forces.
The aggression forces targeted separate areas of Kilo 16 with 25 artillery shells and seven mortar shells.
The source pointed that the aggression forces shelled two mortar shells in Al-Hodeidah city, and a military bulldozer developed combat fortifications east of Al-Shabab City  on the 90th Street.
The source pointed that the aggression forces carried out a failed infiltration operation on the army and people's committees sites east of the city of Al-Tahita, and targeted more than 25 artillery shells and farms and property of citizens in the same area, as well as with various machine guns and more than 24 artillery shells.
The source pointed out that the aggression warplanes launched two raids on a gold exploration company in Jabal Salb, Nehim District, which led to the destruction of a number of vehicles and equipment, and launched two raids on other areas of the Directorate.
The warplanes of the aggression launched a raid on the Al-Ghayl district of Al-Jawf governorate, two raids on the Magzar district of Marib governorate and a raid on the Ould Rabi` district in Al-Bayda governorate.