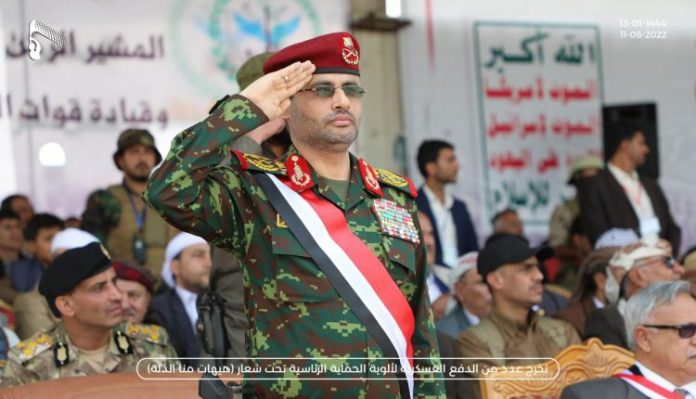 President of the Supreme Political Council – Supreme Commander of the Armed Forces, Mahdi Al-Mashat, on Thursday addressed strong messages to the Saudi-led coalition Aggression countries at a major military parade held in Sana'a.
In his speech at the military parade, which was organized to celebrate the graduation of a number of military batches from the Presidential Protection Forces, President Al-Mashat touched on the latest political and security developments at the national level.
He affirmed that Yemen does not pose a danger to anyone, saying "We are in the position of defending, and we do not pose a threat to anyone except those who plot against our country."
President Al-Mashat pointed out that the enemy is fighting in all political, economic and social fields and moving under sectarian and ethnic headlines.
He explained that the American plan aimed to strike the collective patriotism, stressing that everyone is required to defend Yemen's independence and unity.
In his speech, President Al-Mashat confirmed that the military institution is in an advanced stage at various levels, noting that "the army performance in the theater of operations with the aggression forces once again proved that Yemen is the graveyard of invaders."
"Our armed forces are on the lookout for those who think of swallowing our country to write their end," he said.
Concluding his speech, President Al-Mashat reiterated advice to the aggression coalition forces, stressing that "the cost of peace is much less than the cost of war."
He warned the aggression coalition forces against the continued failure to pay the state employees' salaries from the Yemeni people's looted and stolen wealth.