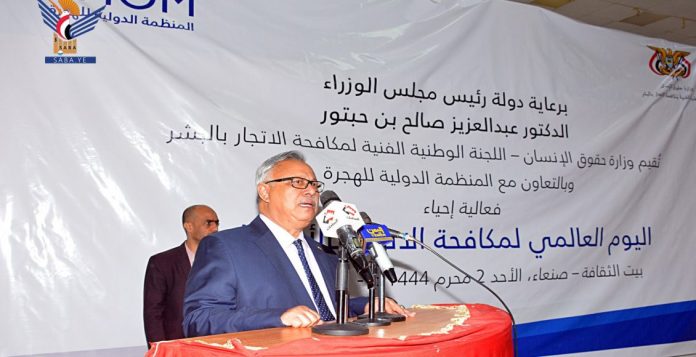 Ministry of Human Rights organized on Sunday in Sana'a in cooperation with the International Organization for Migration, an event on the occasion of the World Day against Trafficking in Persons.
During the festive event, Prime Minister, Dr. Abdulaziz Saleh bin Habtoor, held the international organizations the moral and legal responsibility towards actions that exploit the poverty of the Yemeni people to harm it and trade in its suffering.
Dr. bin Habtoor condemned the sinful exploitation of the people of Yemen as a result of the tragic living conditions they are going through, due to the aggression and the siege of the child trafficking by criminal gangs in support of the US-Saudi-Emirati coalition, which seeks by various means to harm the Yemenis.
He called on the Organization of Migration and other international organizations working in Yemen to take into account their activities and programs the huge human mass in the Supreme Political Council-held provinces, which has been imposed on aggression and siege for more than seven years.