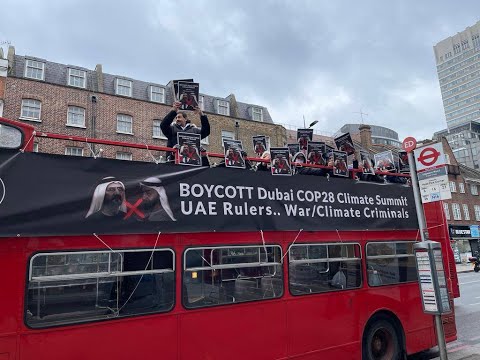 The British capital, London, witnessed on Monday a massive demonstration against the UAE and its rulers as "war/climate criminals", amid calls to boycott Abu Dhabi and impose international sanctions on it for its violations and aggressive policies.
Human rights activists participated in the demonstration and demanded the need to cancel the COP28 climate conference, scheduled for the end of this year in the UAE, and not allow it to host these events to whiten its image.
The demonstrators raised pictures of UAE President Mohammed bin Zayed Al Nahyan and his deputy, Mohammed bin Rashid Al Maktoum, describing them as "war criminals who must be tried," as well as banners denouncing the UAE's violations and calling for a boycott.
This comes after hundreds of international organizations refused to hold the COP 28 climate conference in the UAE, considering the holding of the conference there a "disgrace", especially in light of the appointment of a prominent Emirati oil official as the conference's president