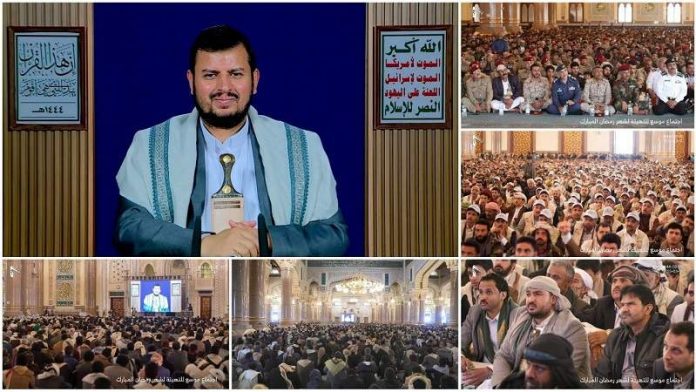 The leader of the Yemeni revolution, Sayyed Abdul-Malik Badr al-Din al-Houthi, stressed the need to use the month of Ramadan to strengthen the educational values of man, strengthen our relationship with the Qur'an and strengthen our connection with it in the face of fierce and misguided Western attacks against Muslims.
In a speech on Friday, during an expanded meeting of scholars and state leaders in reception of the blessed month of Ramadan, Sayyed Abdul Malik warned of the danger of the huge potential possessed by the Misguided Forces and the magnitude of malicious attacks to mislead our Islamic societies.
"The month of Ramadan is an annual cycle in which we get used to patience and taming the soul and controlling its desires," he explained, stressing that taming the soul through patience pushes our society to be a strong society that possesses will power and endurance.
Sayyed Abdul-Malik called for strengthening the work of charity during the month of Ramadan.
" The charity has a major role in strengthening social ties and reforming the reality of society and is important in self-purification," he said.
"The conditions of people at this time require attention to charity", he said, adding that consolation and charity are among the most important good deeds in the blessed month of Ramadan.
He concluded his speech by stressing the need to welcome the month of Ramadan with a cleaning campaign in cities, neighborhoods and regions if conditions are created for this in light of the continued rains.