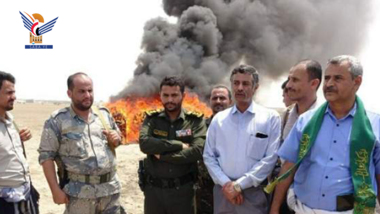 The Criminal Prosecution in Hodeida province in cooperation with the General Administration for Narcotics Control has destroyed four tons and 674 kilograms of narcotic cannabis resin and 141,429 narcotic Captagon pills.
Head of the Specialized Criminal Prosecution in Hodeida province Judge Ahmed al-Shami said that the destruction process was carried out based on the directives of the Public Prosecutor by destroying a number of drugs seized in connection with 72 cases and stored in the prosecution's warehouses in the pending cases.
Judge al-Shami stressed the Public Prosecution's keenness to play its role in confronting drug crimes, hailing the exerted efforts of the Narcotics Control Administration and the security services in seizing these materials, which were coming from the occupied territories and on their way to Saudi territory.