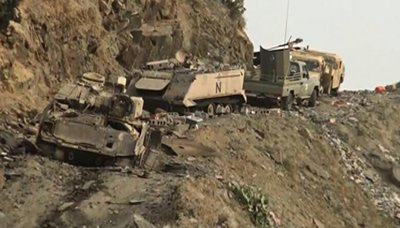 Althawra Net
The Yemeni missiles pounded Baydah power station in al-Khubah area in Jizan region, informed sources said Saturday.
On Tuesday, the Yemeni army and popular forces fired a barrage of rockets at the main Saudi military base in Jizan.
The Yemeni forces fired several rockets at the main military base in the al-Khubah district of Jizan in retaliation for the kingdom's aggression against their nation.
The Yemeni forces gained full control over Al-Ashqari mountain in Ma'rib, informed sources said Saturday.
Earlier reports said the Yemeni forces fired rockets at a power station in Saudi Arabia's Southwestern region of Jizan as the Yemeni army and Ansarullah fighters continue to retaliate against the Gulf kingdom's aggression against their nation.
"Yemen's General Organization of Antiquities and Museums announced on Friday that at least 23 historical sites and monuments, namely six ancient towns, six castles, three museums, two mosques, four palaces and four ancient walls, have been destroyed or damaged in the Saudi aerial attacks," Yemen's official Saba news agency reported.
The organization said that the sites were located in the central Yemeni city of Ma'rib, the southern port city of Aden, the southwestern city of Dhale, Sa'ada in northwestern Yemen and the western port city of Hodeida as well as the cities of Taiz, Shabwa and Hajjah in the south of the country.