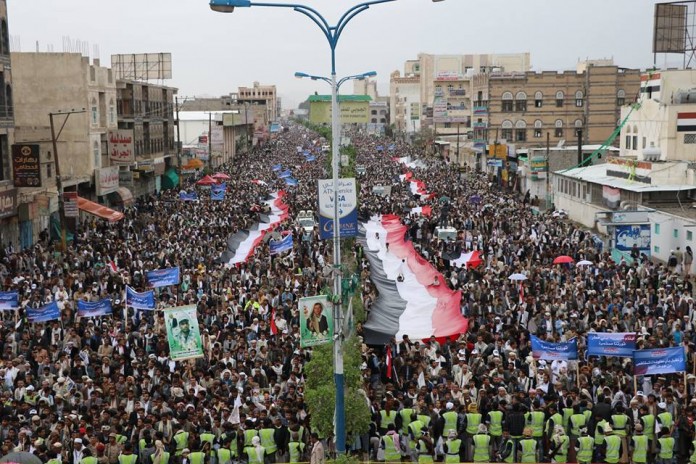 Al-Thawra Net
April 15th, thousands gathered in central streets of the capital Sana'a to condemn the attacks which have continued despite the truce starting early last week.
People in several cities across Yemen have taken to the streets to condemn incessant Saudi attacks on civilians despite a truce meant for facilitating peace talks.
Yemen's al-Masirah TV said the rally in Matar Street  was held under the slogan of "responsibility of world to stop aggression and siege" with the participants chanting slogans against the United States and Saudi Arabia while denouncing the silence of the international community on the crimes committed by the Saudis.
The demonstrators also held banners showing images of civilians affected by the deadly airstrikes, calling on the United Nations to fulfill its responsibilities and stop the carnage.
During the march, Yemenis also warned the Saudi leadership that the continued attacks on the people in Yemen will only strengthen the steadfastness of the nation.
Similar demonstrations were held in other cities, with Yemenis declaring their support for the Yemeni army and popular committees in the face of Saudi aggression.