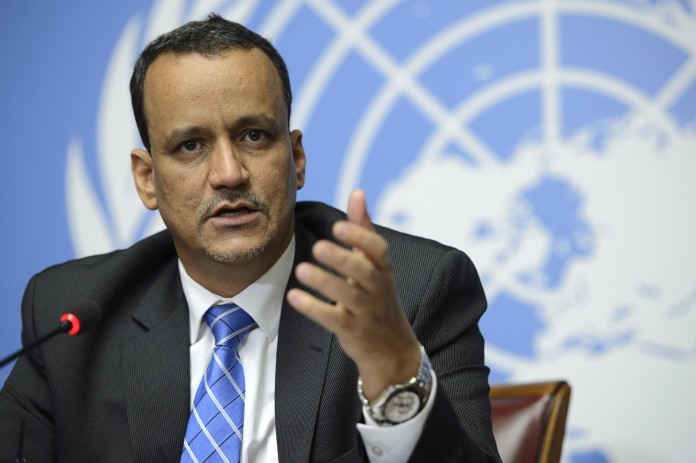 Al-Thawra Net
Ismail Ould Cheikh Ahmed, the United Nations special envoy to Yemen, welcomed on Friday a recent prisoner swap between the parties to the Yemen conflict and urged them to "engage constructively" in a new round of peace talks set to begin on April 18.
Earlier this week, a Saudi-led military coalition said it had completed a prisoner swap in Yemen, exchanging nine Saudi prisoners for 109 Yemeni nationals ahead of a planned truce and peace talks aimed at ending the year-long war on Yemen.
"These initiatives reinforced the spirit of the confidence building measures recommended at the previous round of talks and there is no doubt that they can provide an important drive to the political process," U.N. envoy Ismail Ould Cheikh Ahmed said in a statement.
"I am looking forward to the active participation of relevant parties in the talks," he added. "Yemeni delegations should seize this opportunity to provide a mechanism for a return to a peaceful and orderly transition."
Ould Cheikh Ahmed said the two sides have confirmed a cessation of hostilities starting at midnight on April 10 ahead of the peace talks set to begin in Kuwait a week later.
There have already been several failed attempts to defuse the conflict in Yemen, which has triggered a humanitarian crisis in the Arab world's poorest country.
"We are planning and preparing at full speed," Ould Cheikh Ahmed said about the upcoming peace talks.
"U.N. political experts have already been deployed to Sana'a and Riyadh in order to work with the delegations gearing up for the resumption of talks," he added. "Another team is on its way to Kuwait to finalize the preparations."
Ould Cheikh Ahmed said he hoped the planned cessation of hostilities would open the door to a permanent truce.
"With political will, good faith and balance, they could take this opportunity to end the conflict and pave the way toward a permanent and durable end of the war," he added.
(Source: Reuters)