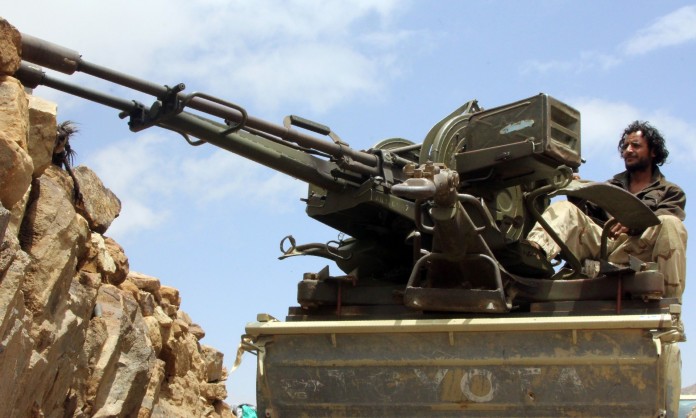 Al-Thawra Net
The Guardian, British  newspaper, said that British government released licences for the export of £7m of arms to Saudi Arabia in the last three months of 2015, taking the total value of such licences since the country entered the civil war in Yemen to £2.8bn.
According to the Guardian the calls are growing for the UK to suspend arms sales to Saudi Arabia in light of allegations, including by a UN panel, of indiscriminate bombing of Yemeni civilians by the Saudi-led coalition.
"The figures released on Tuesday (pdf) show that the UK government has issued 122 licences for military exports to Saudi Arabia since it became involved in the civil war in March 2015. The UK has issued export licences worth £6.7bn for arms to Saudi Arabia since 2010," the Guardian mentioned.
The British newspaper said that British ministers believed that  Saudi Arabia has breached international humanitarian law through its bombing campaign, "the all-party select committee on arms export controls is conducting an inquiry into sales of arms to the Saudis."
Saudi Arabia is the UK's most important strategic and arms sales partner in the Middle East, and the likelihood of Westminster suspending arms sales is slim.
Commenting on the latest figures, Andrew Smith of Campaign Against Arms Trade (CAAT) said: "Almost 6,000 people have been killed in the Saudi-led bombardment of Yemen. UK-supplied combat aircraft and bombs have been central to the destruction and yet the arms sales have continued, and so has the government's uncritical support of the Saudi regime."
The weapon categories included for arms exports since the bombing of Yemen began include approximately £1.7bn of ML10 licences for aircraft, helicopters and drones, £1.1bn of ML4 licences for grenades, bombs and missiles and £430,000 worth of ML6 licences for armoured vehicles and tanks.
CAAT and its lawyers at Leigh Day have submitted a claim for a judicial review into the arms sales that calls on the Department for Business to suspend all extant licences and stop issuing further licences for arms exports to Saudi Arabia for use in Yemen while it holds a full review into whether the exports are compatible with UK and EU legislation.
The Liberal Democrats' foreign affairs spokesman, Tom Brake, said: "Instead of adopting a policy of presumption of denial, the UK government preferred to let its arms fall into the hands of the Saudi military using arms to bomb civilians indiscriminately and commit, in the eyes of many, widespread violations of international humanitarian law."
Separately, the UK government revealed it had not rejected a single export licence request since March 2015 on the basis it might be used to repress internal human rights. The UK government said it had blocked seven licences on the basis that the arms might be diverted to undesirable ends.