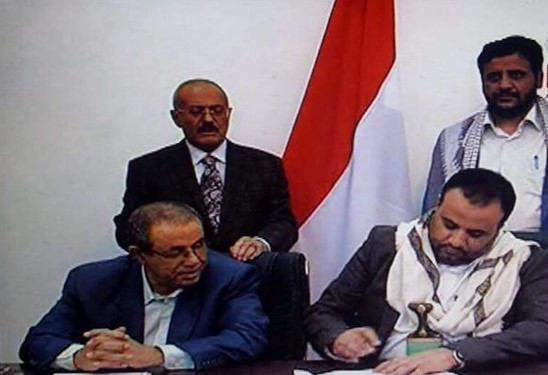 Al-Thawra Net
Yemen's Houthi Ansarullah and former president Ali Abdullah Saleh's General People's Congress party have reached a consensus to set up a governing council to run the conflict-ridden country, with a focus on fighting the Saudi aggression.
In a joint statement released by Yemen news agency sabanews.net on Thursday, the two parties said that the "supreme political council" would include a rotating leadership made up of a president and a deputy from both sides.
According to the statement, the 10-member council is tasked with managing "state affairs politically, militarily, economically, administratively, socially and in security" based on the country's constitution.
"The aim is to unify efforts to confront the aggression by Saudi Arabia and its allies," the statement added.
The development comes as the UN-mediated negotiations between the Houthis and Saudi-backed loyalists to the former president, Abd Rabbuh Mansur Hadi, are underway in Kuwait.
The peace talks, however, show no sign of producing an agreement to resolve the crisis in Yemen.
The discussions, which started in Kuwait City on April 21, were held against the backdrop of a shaky ceasefire that began in the violence-wracked state at midnight on April 10.
The impoverished Arabian Peninsula country has seen almost daily military attacks by Saudi Arabia since late March 2015, with internal sources putting the toll from the bloody aggression at about 10,000..