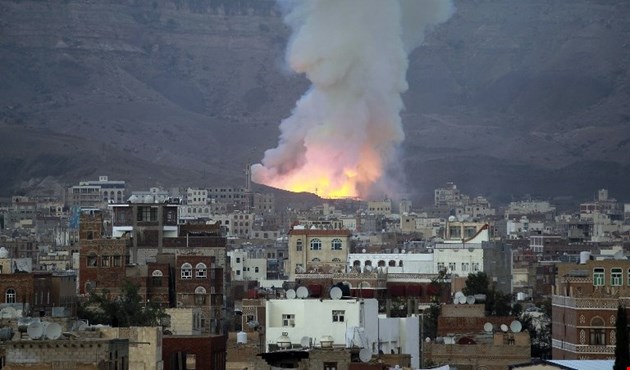 Al-Thawra Net
The Saudi led coalition and its mercenaries  continues to commit crimes against the Yemeni people.
A military source pointed to SABA  that four civilians were martyred in  an air raid launched on a truck loaded with gas and a car in  Majz directorate and two raids in different areas in Sa'ada province .
The source pointed that in Taiz  the warplanes of aggression launched 27 raids on Yakhtal, network communications and Alchukbh mount in Mokha directorate , also four raids on fire mount .
A woman killed  from her injuries and two of her children injured by mercenaries artillery attack on the village in Asalo directorate in  Taiz .
The source pointed that two raids were launched on a poultry farm north Nfhan district , three raids  on Hodeida port and 14 raids on different areas on Hodeida .
Saudi American aggression battleships bombed different coasts on Hodeida . The source pointed that the aggression launched 8 raids on  Medi City , a raid on Harad district , four raids on Marib , raid on Nhim , a raid on  alhunka bridge in al- Mahaweet province , raid on Milhan directorate and raid on the  al-Masloub area in  al-Jouf.
The source reported that Saudi American aggression warplanes  launched a raid on the asilan Shabwa province  and raids on villages in al- Khubah in Jizan.