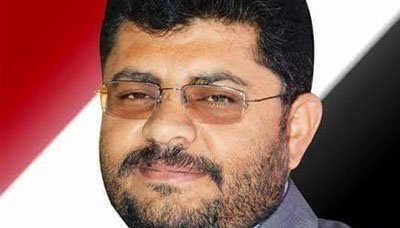 Al-Thawra Net
The head of the Supreme Revolutionary Committee, Mohamed Ali al-Houthi, held a telephone conversation today with the Chargé d'affaires of the Russian Federation of Yemen, Andrei Chernovol.
During the telephone call, they discussed the developments in the international position on peace in Yemen and the Russian role, which is reliable with all the lovers of peace and good in the world, and the result of the horrific tragedies , massacres and the challenges imposed by the aggression  forces that are supporting terrorism and al-Qaida in order to destroy international peace and security.
In His part, the Acting Chargé d'affaires of the Russian Embassy expressed his thanks and appreciation for the good and sincere feelings he received in the Russian Embassy and its staff by Yemen, stressing to continue working at the Embassy because Yemen is important to strengthen the permanent and advanced Russian Yemeni relations.
Andrei Chernovol also stressed Russia's eagerness to bring peace to Yemen and to work permanently from the standpoint of the right of the Yemeni people to peace and stability, pointing out that Russia will send a plane laden with humanitarian aid, donated to the Yemeni people.