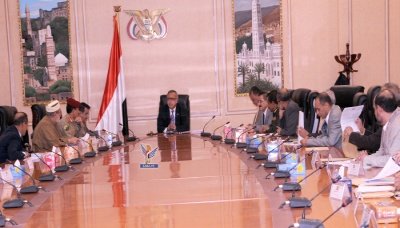 Al-Thawra Net
The Cabinet  held a meeting headed by The prime Minster Dr. Abdul Aziz Saleh bin Habtoor to  discuss a number of topics and reports on its agenda and  as well as the latest developments at the internal and external levels.
At the meeting , the Defense Minister briefed   report on the military developments in the fronts of steadfastness and confronting the Saudi-American  aggression and its mercenaries and victories achieved by  the Yemeni Army and Popular Committees' forces ,and their success in advancing and repelling in a number of fronts and thwarting the plans and plots of aggression and its mercenaries.
The Defense Minister pointed out to the needs to support the fronts through the implementation of the decisions issued by the Supreme Political Council, the National Defense Council and the National Salvation Government to strengthen the fronts of steadfastness against the aggressors and defend the homeland and the Yemeni people.
He stressed on necessity to supply the fronts by all needed things to strengthen the fighters to defend the national Unity and the security and Stability of Yemen.
During the meeting, they discussed the contents of the presidential statement issued by the Security Council on 15 June 2017, expressing its deep surprise to distort the facts and stand with the aggressor to serve the policy of special interests of some major powers.
The Cabinet strongly condemned the inauguration of the UN Security Council itself as an agent and lawyer for the Saudi-led coalition aggression and attempt to cover its crimes and focus on the army and Popular Committees' missiles that defending they Yemeni people, pointing out that the Yemeni people have been subjected to more than two years of blatant aggression and an unjust blockade amidst unprecedented silence and international complicity.
On the basis of its role in achieving international peace and security, the Cabinet also called on the Security Council to take a binding resolution to stop military aggression and all war operations on all fronts, the lifting of the comprehensive blockade on Yemen and reopening of Sana'a International airport to civilian and commercial air traffic.