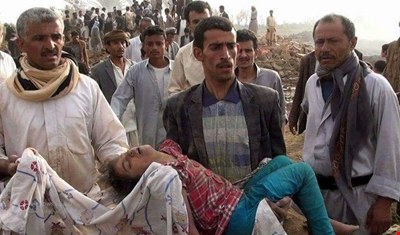 Al-Thawra Net
The International Committee of the Red Cross (ICRC) expressed deep concern over the troubling pattern of recent airstrikes attacks that killed and wounded scores of civilians in Sa'ada and Taiz provinces in Yemen.
" Our colleagues have been to the village of Mahda, on the outskirts of Sa'ada city, where they saw a house literally flattened by the explosion, while a crater showed where the impact had occurred,"  said Alexander Faite, the head of the ICRC delegation in Yemen
"We strongly deplore the trend whereby public places, such as markets, as well as private houses, have been targeted by the belligerents. This pattern is against the basic principle of the law of armed conflict, and it must be stopped, civilians continue to pay highest price," Alexander Faite added
The Saudi-led coalition had committed a massacre on Friday 4th of August, when its warplanes targeted a civilian home in a strike that killed 13 people, including three women and six children from the same family.