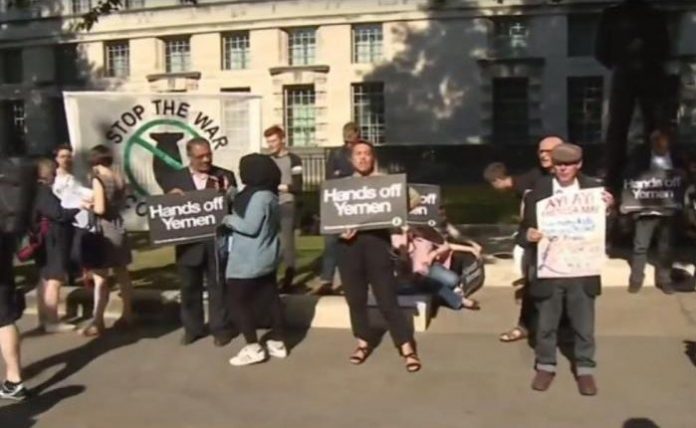 Al-Thawra Net
A group of British parliaments, academics and artists signed a letter to Prime Minister Teresa May protesting what they see as the UK's support for the Saudi-led coalition offensive on Yemen's Red Sea Port City of Hodeidah.
The move came during a protest held on Friday in front of the British Prime Minister, demanding a halt to arming Saudi Arabia, which they accused of committing serious human rights violations in Yemen.
The protesters held banners demanding that Saudi -led coalition to stop killing and starving Yemenis, and lift its hand on Yemen.
They accused their government of complicity with the Saudi and UAE regimes in their military campaign in Yemen.
"It is necessary to oppose the UK government's support for the attack on Hodeidah, pointing out that, although London expressed concern about the attack, it continues to arms the UAE and KSA regimes," Said Stephen Bell, a member of the anti-war coalition.
He added that this protest is to reflect the concern of top senior politicians and academics against the Saudi-led coalition war on Yemen, stressing "the French and British governments are fuelling the war in Yemen and they must hold responsible."