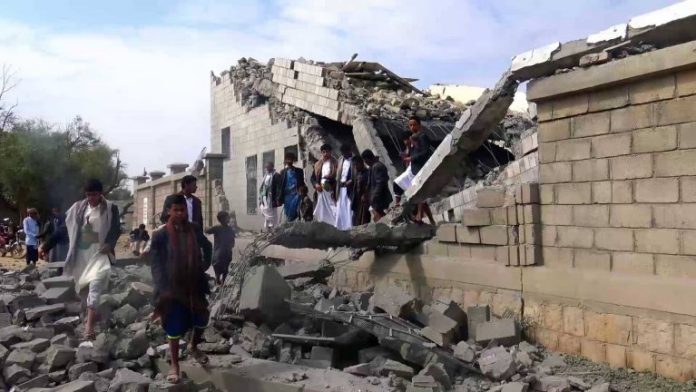 Saudi aggression continued its crimes against the Yemeni people and violated the cease-fire agreement in the province of Hodeidah during the past 24 hours, resulting in the death and wounding of ten women and children.
A security source told Saba news agency that a woman and three children were killed by two air raids on the house of Ali Aa'id al-Derini in al-Tawayyya district in Hajjah province.
The source pointed out that four women and two children were injured by an air raid on the house of a citizen in Gammas  valley. The aircraft also carried out a raid on al-'Abaisa district on Kushar directorate and five raids on  Harad and Midi.
In the province of Hodeidah, the mercenaries of the aggression continued their violations of the cease-fire agreement, where they shelled the village of al-Zafran in Kilo 16 district.
The source said that the invaders and mercenaries targeted residential areas in the city of al-Druhami, and fired 20 shells on the homes and property of citizens in the city of al- Druhemi and damaged a number of them.
According to the source, the invaders and mercenaries shelled 19 mortar shells in different in  al-Tahita directorate. They also shelled more than 20 mortars in the district of Hays.
The source pointed out that the air aggression launched in the province of Sa'ada four raids on the areas of Bani Moin and in the directorate of Razih.
The source pointed out that the warplanes targeted the Air base of al-Dilmi in the capital Sana'a with two raids, and launched a raid on the area of ​​Beit Dahra in the directorate of Bani Hashish, Sana'a.
the aggression mercenaries bombed  with 12 Katyusha rockets citizens farms in the area of ​​Ramada, directorate of Nehim.
In Asir, the Saudi warplanes launched a raid on Mujazh