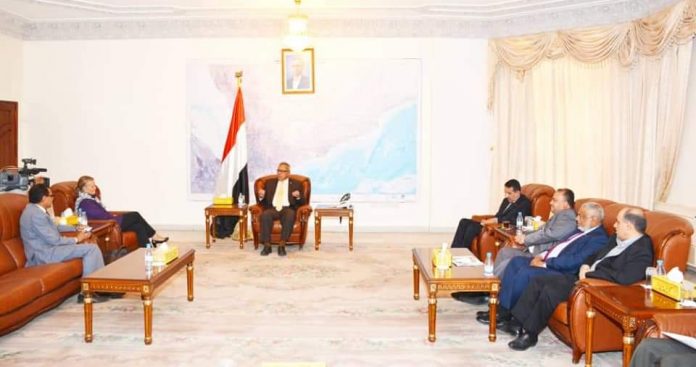 Al-Thawra Net
Prime Minister, Abdulaziz Saleh bin Habtoor, has on Saturday met with Lise Grande, the UN Humanitarian Coordinator for Yemen.
During the meeting, they discussed a number of emergency humanitarian files.
The meeting touched on the negative signs of the humanitarian file as a result of the Saudi-Emirati aggression coalition's continued escalation and their economic war against the Yemeni people, which has doubled the number of needy and pushed millions of Yemenis to the brink of famine.
The continued war and blockade has furthermore put additional burdens on the National Salvation Government, the United Nations and the international humanitarian system.
The meeting, attended by the Minister of Education Yahya al-Houthi and a number of the ministry's administrative leadership, also focused on school feeding project and ways to consolidate the necessary factors to strengthen the World Food Program's activity and stability, and to expand its humanitarian interventions by adding new beneficiaries.
The meeting stressed the importance of the UN and international humanitarian interventions in helping the Yemeni people and the need to continue their influential role in reducing the great suffering endured by more than 20 million Yemeni citizens.
The meeting formed a joint technical team of government agencies and the World Food Program (WFP) to discuss a new mechanism proposed by the WFP for its future activities, specifically related to the cash payment of the target segments and beneficiaries of its humanitarian work