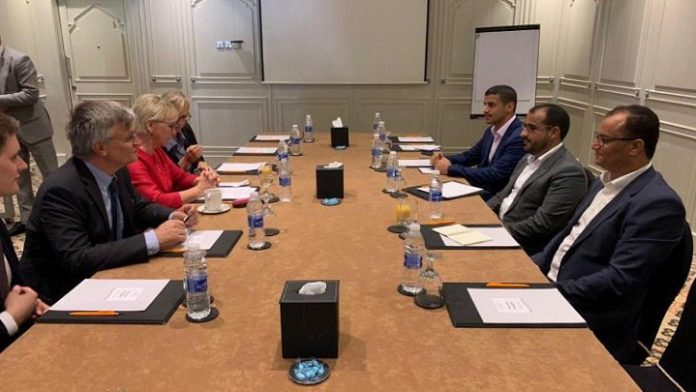 Al- Thawra Net
The Yemeni National Delegation has held a meeting with Swedish Foreign Minister Margot Wallström and her accompanying delegation in the Omani capital of Muscat.
During the meeting they discussed the political situation in Yemen and the progress achieved in fulfilling the Stockholm Agreement, as well as the steps taken by the National Delegation in implementing the Hodeidah Agreement, most notably the military redeployment.
They also discussed the obstacles in the war prisoners' exchange, about which the Saudi regime blocked many proposals introduced by the United Nations.
"We reminded the Swedish Foreign Minister of the brutal massacre that targeted war prisoners in Dhamar, in addition to the Saudi regime's rejection of any truce in Taiz," top Yemeni diplomat Mohammed Abdulsalam stated.
From her side, the Swedish Foreign Minister praised the National Delegation's implementation of the Stockholm Agreement and its responsible performance during the consultations, affirming their continued support for the Stockholm Agreement and the keenness to implement the remaining steps.
Wallström also offered her condolences for the targeted war prisoners in Dhamar.