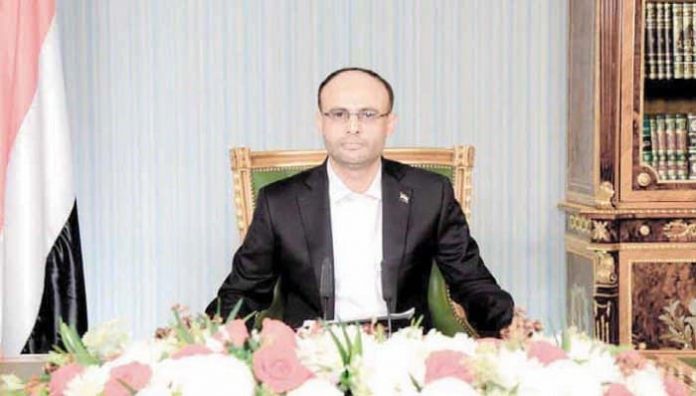 President of the Supreme Political Council, Mahdi Al-Mashat, congratulated on Friday the Yemeni people on the 31st anniversary of the Yemeni national unity, on May 22.
Al-Mashat said in his speech on the occasion of the 31st anniversary of Yemeni unity, he also sent a cable of congratulations to the leader of the revolution and the Yemeni people, the army, the popular committees and the security services this the anniversary.
He called the leadership of the coalition, represented by the Kingdom of Saudi Arabia, to lift the siege on the Yemeni people and to engage seriously in talks and to stop the military and economic war as well as to end the military presence in the lands and waters of Yemen.
In his speech,  President al-Mashat also called for a joint action to stop all hostilities on all sides and address the effects and repercussions of the war, leading to the resumption of relations on the basis of sincere brotherhood, good neighborliness, mutual respect, and joint cooperation, the maintenance of the security, sovereignty, interests of the two countries and the two brotherly peoples.
Moreover, He reiterated the United Nations and everyone's readiness to contribute effectively to achieving peace while stressing the need to separate the humanitarian and other aspects, indicating the opening of airports and seaports and ending the blockade is a pure right for the Yemeni people, and such issues should not be transformed into an article for bargaining of the weapons of war to extract negotiating gains on the political and military sides.
The President affirmed that the insistence on linking the humanitarian fields with the fields of the military and political conflict is an incomprehensible and unjustified act, and will remain an obstacle to achieving peace, and whoever insists on this or legitimizes the continuation of the siege of the oppressed Yemeni people bears the responsibility for all of this.
He indicated that this occasion coincides with the victories and struggles made by the heroes of the resistance in Palestine that returned to the nation its spirit after a long time.
Al-Mashat said that the American and British administrations, in cooperation with the Israeli enemy and the countries of the West worked to target the Palestinian cause, indicating that within the framework of the American-Western project breaking out wars in region and criminalize the resistance.
The President Al-Mashat affirmed that the US and the Zionists worked to present Palestinian movements of Hamas, Islamic Jihad, and the rest of the factions as an alternative enemy to the Israeli enemy.