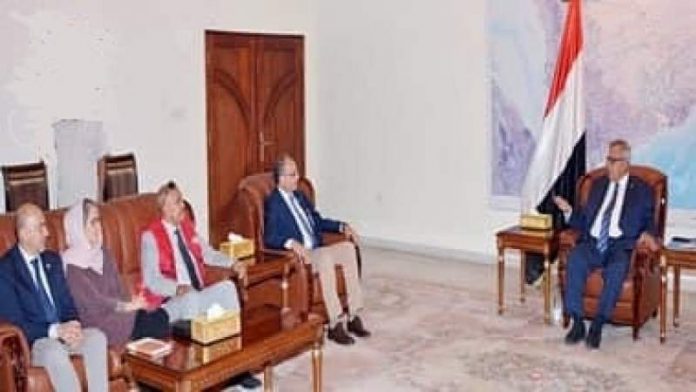 The Prime Minister of the Salvation Government received, on Sunday in Sana'a, the Regional Director of the International Federation of Red Cross and Red Crescent Societies for the Middle East and North Africa, who is currently visiting Yemen.
Dr. Abdulaziz bin Habtoor welcomed the international official on his current visit to Yemen. He praised the humanitarian effort of the Federation, the International Red Cross Society, and the entire humanitarian work system operating in Yemen in alleviating the suffering of Yemenis over the years of war and siege.
He pointed to the importance of the existing partnership between the Humanitarian Action Group and other parties, including those that govern the relations between the Federation and the Red Cross Society and the Yemeni Red Crescent. As well as its positive results for the benefit of providing some of the basic needs of the Yemeni people, who have been exhausted by years of war and siege, and affected various aspects of their daily life.
Bin Habtoor reviewed the size and quality of the challenges, problems, and severe crises facing Yemeni people due to the US-Saudi aggression, its siege and arrogance, and the international community's continuation of turning a blind eye to its grave violations against Yemen.
For his part, the international official indicated that his current visit comes with the aim of closely examining the humanitarian situation and standing on the activity of the Union in this aspect, and to convey a message to the region and the world about the suffering of the Yemeni human being.
He praised the Salvation Government's support for the Yemeni Red Crescent Society and the dedication of its independence and impartiality in the performance of its humanitarian and health duties.