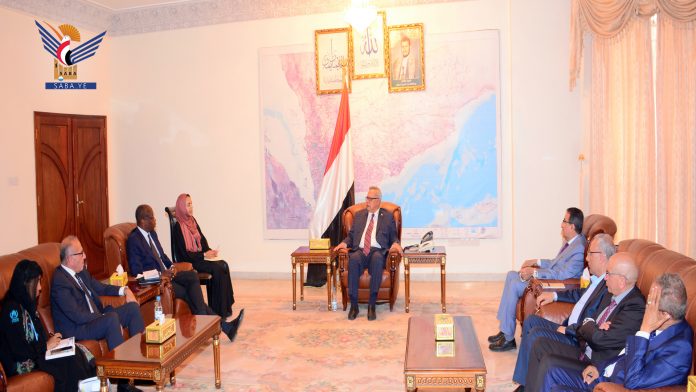 Prime Minister Dr. Abdulaziz Saleh bin Habtour received Tuesday the Assistant High Commissioner for Operations, Raouf Mazou, and his accompanying delegation, currently visiting Yemen.
The Prime Minister welcomed the UN official on his visit to Yemen. Commended the humanitarian activity and important interventions of UNHCR in attributing the efforts of the Government of National Rescue to alleviate the suffering of the displaced persons as a result of the war against Yemen imposed by the aggression coalition and blockade and fulfilling its obligations to refugees from Ethiopia and the Horn of Africa.
During the meeting attended by the Deputy Prime Ministers for Security and Defense Affairs, Lieutenant General Jalal Al-Ruwishan and National Vision Mahmoud Al-Junaid reviewed aspects related to the consequences of the aggression and siege on the Yemeni people and its direct cause of the greatest humanitarian catastrophe known to mankind.
He noted the importance of strengthening complementary roles to reduce the suffering of displaced persons, most of whom lived in difficult conditions.
He stressed that addressing the humanitarian issue would be achieved only through the establishment of a just and honorable peace, which the serious international will contributes to making, not the Quartet, which includes the aggressor countries against Yemen.
The meeting discussed ways to strengthen the partnership between the relevant government agencies and UNHCR's office in Sana'a over the coming period regarding all issues and needs related to the displaced, including ways to help them to live a decent life and facilitate their return to their cities and areas.