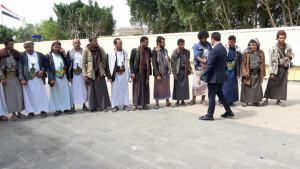 A media figure defected from the ranks of Saudi-led coalition and returned to the capital Sana'a on Saturday.
Abdul Karim Mohammed Al-Ansi was received by Dhamar Governor, Mohammed Al-Bukhaiti, along with number of officials of the National Center for Returnees, security leaders and social figures.
Al-Ansi was the executive director of the so-called "Yemen First" organization and the director of relations and coordination at Cairo-based Yemen Today channel affiliated with the coalition.
During the reception, Governor Al-Bukhaiti called on those who are still on the side of the coalition to seize the opportunity of the general amnesty decision and  return to the homeland and leave the ranks of the coalition forces.