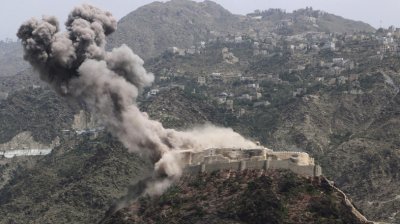 Althawra Net
A local source said that the Saudi warplanes launched new raids on al.Misrakh district in Taiz, killing 11 women and injuring others, on Sunday Nov. 29th.
The source pointed out that it is the second massacre committed by the Saudi aggression in Taiz within two days after the brutal raids on residential neighborhoods in Mawza area, which left at least 12 civilians dead and 13.
The Saudi aggression war jets launched also six sorties on separate areas in Khadir district and targeted civilian sites, which resulted the damage of houses, private and public property, the source added.