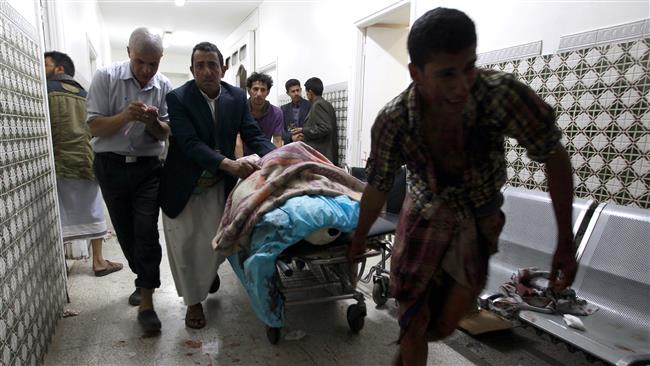 Althawra Net
Doctors Without Borders has hinted that a fresh Saudi air raid targeting its hospital in southern Yemen was deliberate, saying the assault came while Riyadh's military was fully aware of the humanitarian activities at the facility.
On Thursday, the medical charity group, known by its French acronym MSF, slammed as a "violation of international law" the latest Saudi airstrike that left nine people, including medical staff, wounded at its clinic in the Yemeni province of Taiz a day earlier.
"The health structure's GPS coordinates were regularly shared with the Saudi-led coalition, most recently on 29 November, when we informed them about this specific activity in al-Houban" district of Taiz, said Jerome Alin, the MSF's head of mission in Yemen, adding, "There is no way that the Saudi-led coalition could have been unaware of the presence of MSF activities in this location."
According to the MSF, Saudi warplanes on Wednesday launched three airstrikes on a park in al-Houban district, prompting the MSF staff at the nearby hospital to inform Riyadh's on the incident in an effort to prevent any attack on the mobile health center.
However, the MSF hospital came under attack shortly after the three raids. The medical group says two of the wounded are now in critical condition.
"I was in MSF's mother and child hospital in Taiz, just 1 km away from al-Houban clinic, when we heard the airstrikes," said Nora Echaibi, MSF's medical team leader in the Yemeni province, adding, "Everyone was scared. We evacuated the teams as soon as possible."
UN Secretary General Ban Ki-moon also condemned the Saudi raid on the MSF health clinic in Taiz.
This is not the first time that Saudi fighter jets target an MSF-run hospital in Yemen.
Yemeni medical staff members stand next to a patient at the Al-Sadaqa hospital in the port city of Aden, on May 21, 2015.
In late October, Saudi missile strikes hit another MSF clinic in Yemen's Sa'ada Province, leaving several people injured.