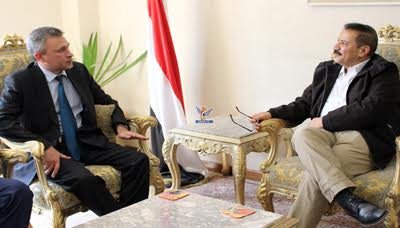 Al-Thawra Net
The Foreign minister Hisham Sharaf met the Russian acting ambassador in Sana'a.
During the meeting, the Foreign minister said that the UN Security Council Resolution is used as a justification for all the crimes of aggression and its mercenaries and hired by Saudi Arabia to delay any peaceful settlement as well as the continuation of many practices and abuses that impede the return of security and stability in Yemen.
Sharaf renewed the official position of Yemen to the peaceful settlement to the conflict away from the obstacles and requirements advanced by the aggression's states, including Hodeida unjust proposal plan, indicating that it must be dealt within the framework of an integrated solution covering all fronts, areas and ports and takes into account the rights of Yemeni sovereignty .
In his part, the Acting ambassador said that Russia continues its efforts to achieve peace in Yemen, stressing that only peaceful means can be resolved in Yemen.