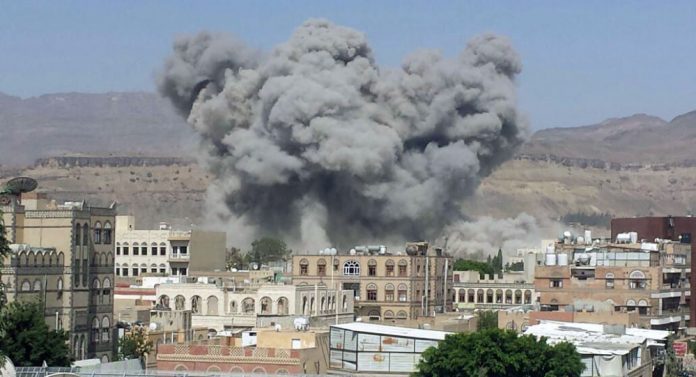 Al-Thawra Net
Saudi aggression warplanes  continued to target citizens' properties in a number of governorates during the past few hours .
A military source told SABA  that the  warplanes launched a raid on Suhara directorate , three raids on  Shada directorate , a raid on al-Zaher directorate  in Sa'ada province. The source  pointed  out that a child was injured by a remnants of  cluster bomb explosion in   alsufara' directorate .
The source said that the aggression launched six raids on  base of al-Dilmi in the capital Sana'a , two raids on a stone-breaker  on Hamdan and similar raids to Nehim directorate in Sana'a Governorate .
The source pointed out that the  aggression warplanes  targeted with two raids a bulldozer to a citizen in Sarawah  directorate  Marib province and launched a raid on the area of  almuhjaza in the same directoate .
According to the source,  the warplanes  launched two raids on Midi in Hajjah province, a raid  on Al-Mtoun district in Al-Jawf province, a raid on Al-Khokha port and three raids on Al-Kadh in Hodeidah governorate .