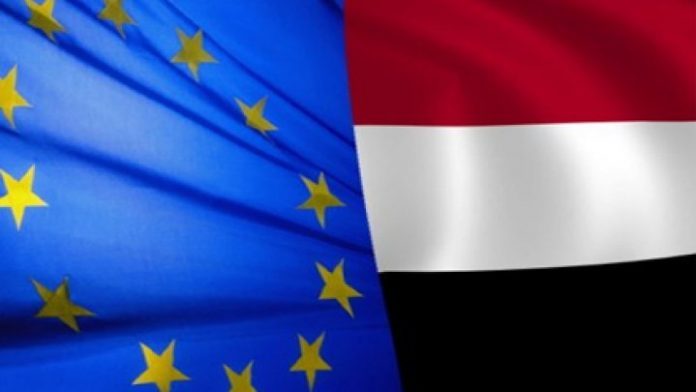 Al-Thawra Net
Maria Antona, stressed on Monday that the solution in Yemen is through peaceful way, through dialogue and negotiations.
The head of the European Union's mission in Yemen, Maria Antona, stressed on Monday that the solution in Yemen is through peaceful way, through dialogue and negotiations to reach an agreement that takes into account the interests of all Yemenis and therefore announced the resumption of the European aid program to Yemen.
During her meetings with the head of the National Salvation Government in Sana'a, the Speaker of the House of Representatives and the Foreign Minister, Maria said that the Union had declared early on its rejection of the military option. He said that the solution to the current suffering lies in a peaceful solution through political dialogue. Fit and fair in this aspect.
She pointed out that there is real concern from the European Union countries of the situation in Yemen, and that they will make good offices by calling for the cessation of the war through political means by sitting at the table of dialogue for all parties and parties in Yemen and reaching an agreement that serves everyone.
"The   role of the European Union in this regard is to reach out to all parties, including Saudi Arabia, the UAE and the Yemeni President, the fugitive Hadi, thus contributing to a comprehensive and non-exhaustive agreement," Maria Antona said
She called on "the parties concerned to reopen the Sana'a International Airport and pay the salaries of the employees, declaring opposition to any military action in Hodeida as an important artery for the lives of Yemenis."
The European Union strongly opposed the transfer of the Central Bank to Aden, and made a proposal for a practical program at the time ensures that the resources go specifically to pay salaries and for social services, she added
Maria Antona revealed that the European Union has approved the cancellation of its decision to suspend the amount of 55 million euros allocated to Yemen, which will be directed to the health sector, food security and the business sector to rebuild the destroyed archaeological facilities and loans to implement small projects for the poorest groups in society.
The head of the mission pointed out that the Union is in the process of resuming its developmental, health and humanitarian activities through its regular programs, the need to facilitate the arrival of experts and specialists from the European Union and international organizations, the entry of humanitarian and medical aid, and bypassing routine procedures due to the nature of the conditions in Yemen.