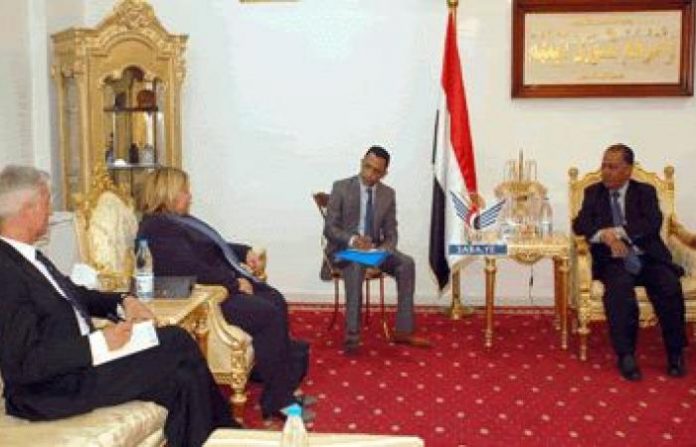 Al-Thawra Net
The Speaker of the House of Representatives, Yahya Ali El-Rai, met the head of the European Union Mission in our country, Maria Antonia Calvo, in Sana'a.
During the meeting, the Speaker of the House of Representatives welcomed the European official, confirming the cooperation and appreciation of the Council of Representatives to the European mission in Yemen in order to achieve the legitimate objectives of the Mission's presence in Yemen.
The Yemeni Parliament Speaker gave an additional explanation to the European official on the aggression and unjust blockade against Yemen by Saudi-led coalition and its negative impact in multiplying the suffering of the Yemeni people.
He pointed out that the aggression had no objective justification to commit such barbaric massacres and heinous crimes in front of the eyewitness to all who visited Yemen and seen in satellite channels, including demolishing houses over the heads of residents of children, women and elders as well as the destruction of mosques, schools, universities, shops, farms, fishermen, monuments and historic sites in Yemen
Al-Rai called on the Parliament and  European Union to strengthen their positions in international bodies and organizations especially in the Security Council to put more pressures on the Saudi-led coalition aggression to stop the aggression and lift the unjust blockade on Yemen, which seeks peace, not surrender.
"We are sure that the solution to the Yemeni crisis can be resolved only by the Yemenis themselves through constructive dialogue and positive understanding that serves the interest of the people and the country," the Yemeni Parliament Speaker added
In her part, the head of the European Union Mission expressed solidarity with the Yemeni people, pointing out that the solution of the Yemeni crisis can only be achieved through political dialogue between the Yemenis themselves and that the European Union will support this trend.
She also pointed out that the Union is in the process of resuming its developmental, health and humanitarian activities to relief the suffering of the Yemeni people.